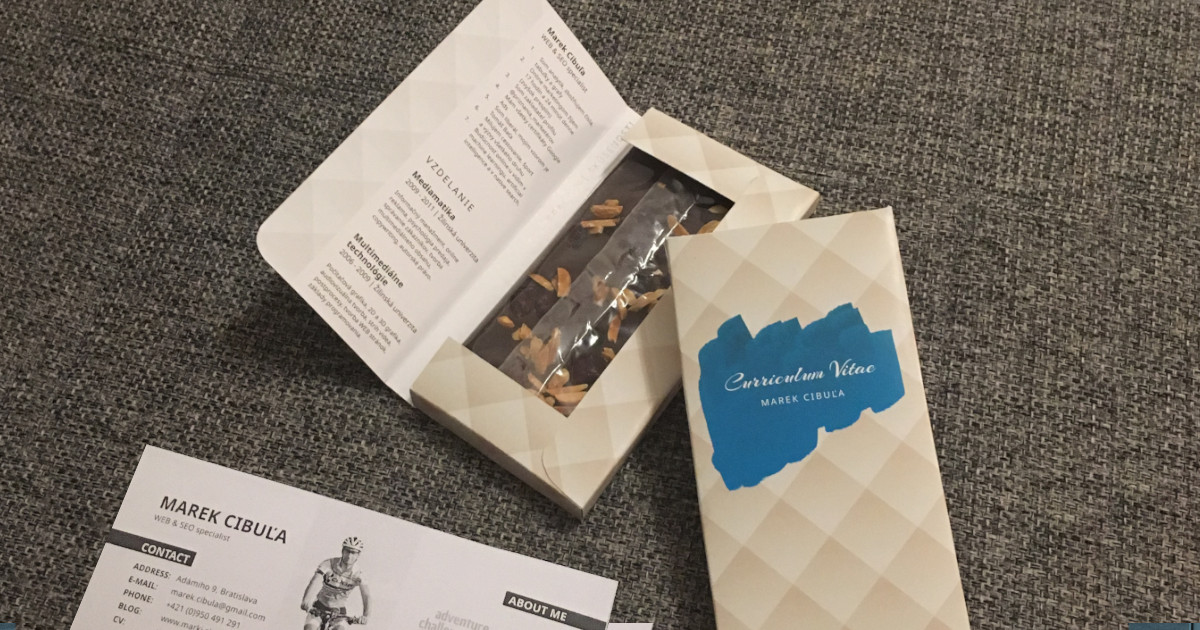 An idea to create a chocolate resume was laying in my head for couple of years. The problem was, I didn't plan to change my work. Finally, the situation occured last summer so I tried to do my best. Don't laugh at me – I am not a graphic designer, I am just a web analyst. And this is my creative CV.
The very first step – buy all types of chocolate in your local store
For your creative CV you will need some special chocolate bar. And what is the best practises? From my point of view:
high percentage of cocoa
transparent packaging
attractive design (chocolate bar covered by dried fruit or nuts)
Finally I chose chocolate bar from traditional Slovak chocolate&sweets producer – DEVA.
Create a layout in Adobe InDesign
There are a lot of barriers on your way to the most creative resume in the world. One of the biggest is creating the template for your chocolate CV, even if you have no experience with Adobe InDesign. I am not an expert, but I've already had some experience with DTP software. Luckily.
In case you are preparing two-side and pixel-perfect layout you need some level of spatial perception, calculator and a lot of patience. If you are a religion person, it is a good time for a prayer before you'll send your PDF to the print office. And… Don't forget to add crop marks!
Printing and hand-made finalization
It should be a little bit difficult to find print office for such type of order. I wished to print only 6 copies of this wrapper – one testing wrapper, one for myself and four of them for the purposes of my interview at DASE, the very best digital analytics agency in Slovakia.
After printing you just take a hand cutter, ruller, paper glue and couple of hours of your free time and wrap chocolate bar in. I fully recommend some relaxing playlist on Spotify for better concentration, because your mistake can suck…
Never forget who you send your CV for
In some situation it is not the best idea to send chocolate CV resume. Creative CV is a great way how to stand out from other applicants, but on the other hand it can also annoy HR specialist. Anyway, I hope you get a job you wish. With or without creative curriculum vitae.
FAQ
How much money and time did you spend with this creative CV?
Testing chocolates = 12 €
Final chocolates = 15 €
Printing = 14 €
Other equipments = 3 €
TOTAL = 44 € (for 5 pcs.)
I spent maybe 20 hours in common (design, print, finalization).
Did you get a job?
Yes, I did. But I don't know if my CV really helped me or not.
What type of paper did you use?
Final version of chocolate CV – print PDF
Did you also create some creative CV? Write me a comment about it.
Ohodnoťte tento článok